Oil Mist at compressors and vacuum pumps
One of the challenges at compressors is the reliable filtration of oil mist. Due to the high pressure impact the lube oil is likely to escape at several spots.
Oil Mist Separators for compressors and vacuum pumps
The ecological solution to this problem is an highly efficient Oil Mist Eliminator from FRANKE-Filter. Our filter offers the individual adjustment of the vacuum in the lube oil system of your compressor or vacuum pump. Precise adjustment prevents the lube oil droplets from escaping and further possible leakages are eliminated.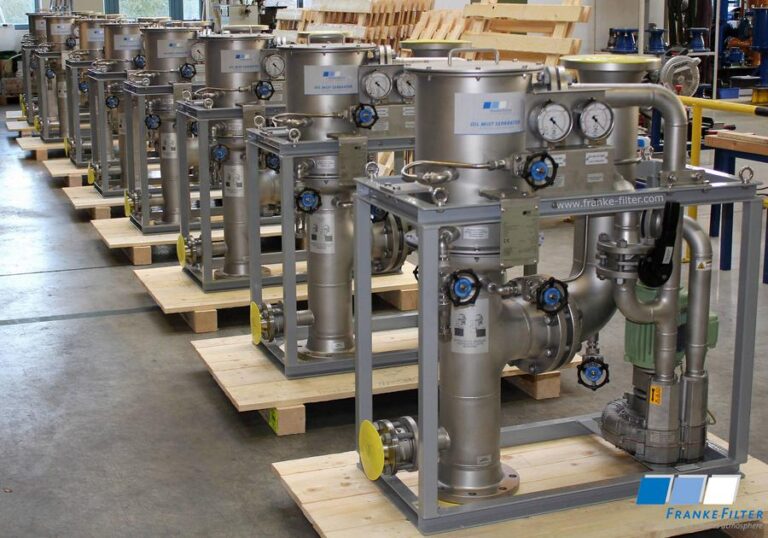 Five challenges at compressors and vacuum pumps caused by oil mist
Oil mist escapes through leakages and is inhaled by people around
The machine hall is polluted and has to be decontaminated
Maintenance works lead to stillstands of the compressor
Oil mist is easily inflammable and presents fire hazard
Lube oil has to be ordered to refill - meaning again standstill for the entire system
Advantages of FRANKE-Filter Oil Mist Separators for compressors and vacuum pumps
More than 99% of oil mist is filtered and eliminated
Employees, machine hall and environment are protected
Maintenance works are not necessary due to the lifetime of over 30,000 operating hours
Lube oil is led back to the lube oil tank - without quality loss - additives remain preserved
Compliance with environmental regulations
Individually adjustable vacuum in the lube oil tank - millibar precise – which is constantly maintained up to the bearings
Get in touch with us!
Contact our sales team and get in touch with your expert for oil mist separation.
Certifications & Approvals
FRANKE-Filter designs and manufactures according to the following certifications and approvals: