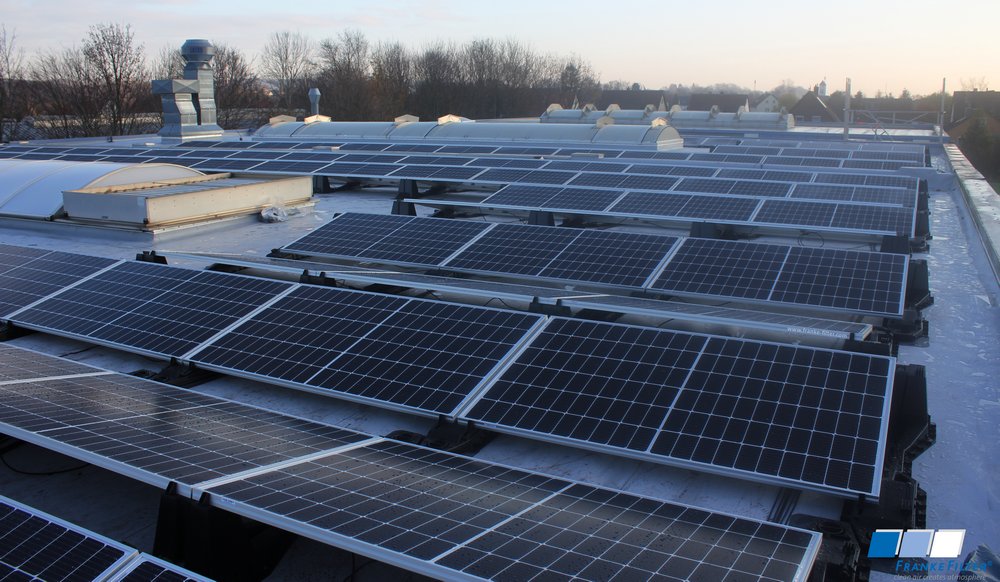 FRANKE-Filter installs photovoltaic system
FRANKE-Filter invests in the future and installs a photovoltaic system to produce climate-neutral electricity.
In order to directly follow up the environmentally friendly developments from 2020 in the new year 2021, the last weeks of December were used to install a new photovoltaic system. FRANKE-Filter's motto "clean air creates atmosphere", i.e. to supply clean air worldwide and to contribute to environmental protection, not only applies to our Oil Mist Separators but also implies that we adapt our energy source and generate energy sustainably.
Therefore, since January 2021, we have been producing clean and environmentally friendly CO2-free electricity. To be precise, 298 solar modules generate a total solar power of 96.85 kWp while saving approximately 40 tons of CO2.
The expected electricity yield from the photovoltaic system is approximately 80,000 kWh per year.
From now on, FRANKE-Filter is more independent and produces its own emission-free, resource-saving and 100% climate-neutral electricity.
Get in touch with us!
Contact our sales team and get in touch with your expert for oil mist separation.