Highest efficiency - oil mist is filtered up to 99.99%
Highest efficiency and durability, clean air, long lifetime

Original MFK filter cartridges
The microfibre filter cartridges developed by FRANKE-Filter are responsible for the precise filtration process. Due to their special nature, they guarantee a smooth process and a high degree of separation over a virtually maintenance-free operation time of more than 30,000 operating hours.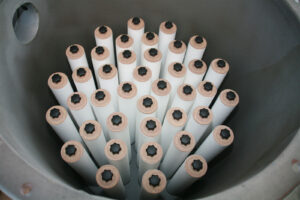 The vacuum pressure gauge of the filter system indicates when to replace the filter cartridges. This is necessary as soon as the microfibers are almost completely contaminated by impurities and lubricating oil particles.
The exchange is conceivably easy. After a few minutes, your Oil Mist Separator is ready for use again and ensures a constant vacuum and the consistent quality of the lubricating oil.
Meeting environmental requirements
The filter cartridges used by FRANKE-Filter meet a high standard and have a service life of approximately 2-5 years. With a separation efficiency of 99.99% and less than 5 mg/m³ residual particles, our filter cartridges meet all German TA-Luft requirements.
MFK-032-39.4 and MFK-674-39.4 filter cartridges for Oil Mist Eliminators
New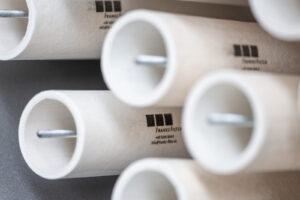 and improved MFK-032-39.4 and MFK-674-39.4 filter elements for FRANKE-Filter Oil Mist Separators are now available. Due to their new structure they are even more reliable and stable even when they are almost saturated.
Filtration efficiency of 99.99% at 0.1 µm
Long-time stable up to 30,000 operating hours
Less than 5 mg/m³ residual particles
According to environmental regulations
MFK-039-39.1 and MFK-039-39.3
Our filter cartridges MFK-032.39.1 and MFK-032-39.3 got replaced by an improved version: MFK-032-39.4
MFK-674-39.1 and MFK-674.39.3
Our filter cartridges MFK-674.39.1 and MFK-674-39.3 got replaced by an improved version: MFK-674-39.4
Certifications & Approvals
FRANKE-Filter designs and manufactures according to the following certifications and approvals: